There are several Titles in the game, which, when displayed - increase or decrease your enhancement success.
This is useful for building fail stacks or succeeding at the enhancement.
Here are titles that help you succeed more:
Here are titles that help you fail more: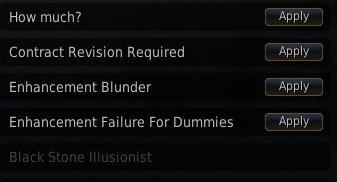 Obtaining these titles is done by succeeding or failing many times in a row, in a streak. It has to be done
in one go
, without switching channels or logging out.
To obtain the fail titles - is luck of the draw. Repeated fails are not guaranteed.
Obtaining success titles - can be farmed. By buying cheap armor, taking it to +5, extracting, doing the next cheap armor, +5, extract, rinse repeat.
It takes 500 successes in a row to get the max title.
Good luck.